Over 11 million sq ft under construction across 77 schemes, according to Deloitte survey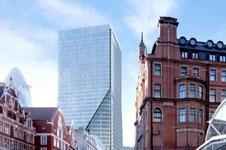 London office construction has risen by 18% in just six months, with 11.1 million sq ft now under construction across 77 schemes, according to the latest Deloitte Crane Survey.
The annual survey reported 26 new schemes got underway on site over the past six months, adding three million sq ft to the development pipeline.
Of the space currently under construction, 4.3 million sq ft is currently let – up 22% from the last survey.
Deloitte predicts that just 3.3 million sq ft will be completed in 2015 – the lowest for three years – due to a previous lull in new schemes and predicts the shortage of Grade A office stock will push rental prices up in the short-term.
Construction in the Square Mile is up by a quarter, with 13 new starts adding a further two million sq ft into the pipeline. This takes the total amount of space being built in the City market to 5.7 million sq ft.
Leasing of buildings under construction is dominated by technology, media and telecoms (TMT), with firms in this sector taking 44% of the space currently under construction, followed by the financial sector taking 27%.
Demolition of buildings is also on the rise, up by 24% compared to the last survey with 6.4 million sq ft now being demolished.
The largest building to have completed during the survey was 14 Finsbury Square, otherwise known as the Alphabeta Building, at 220,000 sq ft, while 100 Bishopsgate (pictured) was the largest new start during the survey with 867,000 sq ft of office space.
Steve Johns, head of City leasing at Deloitte Real Estate, says: "Cranes will be dominating London's skyline for the foreseeable future as construction activity keeps pace with occupier demand."
He added: "Looking ahead, developers' sentiment remains high, as 21 of the new starts totalling 2.6 million sq ft are speculative developments."
Will Matthews, head of research at Deloitte Real Estate, said: "…the development pipeline for 2017-19 is filling up as work commences on new schemes.
"We have also recorded a further 24% upsurge in sites being demolished and readied for construction, meaning early indications are that space completed in these years will exceed the long-run average."