Royal Mail seeks buyer for site with planning for scheme by AHMM, Allies & Morrison, Feilden Clegg Bradley and Wilkinson Eyre
A 2.5 ha chunk of land at the heart of one of central London's most controversial planning rows of recent years has been placed on the market.
Royal Mail as begun seeking a buyer for just over half of its Mount Pleasant Sorting Office site, which has planning permission for more than 600 new homes (pictured, below) designed by AHMM, Allies & Morrison, Feilden Clegg Bradley and Wilkinson Eyre.
The proposals, which would be delivered in 10 blocks of up to 15 storeys, provoked strong opposition from local residents and the boroughs of Islington and Camden when they were submitted for planning in 2013.
But they were given the go-ahead in 2014 by then-London mayor Boris Johnson, who used his mayoral powers to wrest determination from the councils, which are the local planning authorities responsible for separate parts of the site.
Opponents – including London's current deputy mayor for housing James Murray – said the scheme lacked imagination, did not offer enough affordable housing and was a "cynical exercise to maximise land value" on the part of the newly-privatised postal company.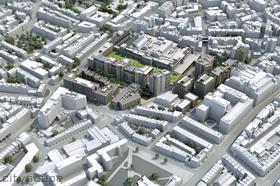 Members of residents' group the Mount Pleasant Association have since created a neighbourhood forum and are refining proposals for a rival scheme to deliver more housing in a lower-rise neoclassical style with the help of architect Francis Terry.
A Royal Mail spokeswoman said the company had begun to market "parts of our Mount Pleasant site that are surplus to our operations" but said just over 2 ha would be retained for processing and deliveries.
"We are also now in the process of identifying potential contractors to start working on separating our operations from the areas of the site earmarked for development," she said.
"These works will take around three years to complete and require significant investment from Royal Mail.
"They are vital to any future redevelopment on the site. It is expected that these works will begin later this year."
Enabling works associated with the proposals involve moving parking from the development site to a new extended basement area under the existing sorting office and building a concrete slab to support the new apartment blocks.
The consented plans include providing almost 200 car-parking space for Royal Mail staff in the basement of the scheme's tallest building, and roofing over the sorting office's service yard to create a "wildflower meadow".
The approved scheme covers a total area of 3.5 ha, around 1 ha of which will remain in Royal Mail ownership, and which includes new access routes for the site and the covered meadow area.
Royal Mail said it would not give an indication of the price being sought for the portion of the site being sold.