Lack of new office space due on to the market and rise of the tech industry is creating pent-up demand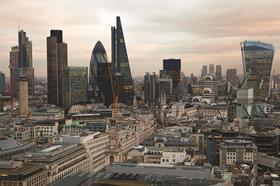 A lack of quality office space under construction in London, of which much is already pre-let, has meant the capital continued to defy any Brexit gloom last year, according to real estate Knight Frank.
In the capital, there are 259 developments currently under construction, of which 187 are residential schemes and the remaining 72 commercial schemes. The development pipeline has meant that more than a quarter of these buildings not due to complete until 2020.
This is creating a short-term squeeze for businesses needing new space over the next couple of years, the firm said in its latest report on London's office market, The London Report.
Last year, London's office market experienced high levels of demand with 4.1 million sq ft of space acquired - 31% higher than the average. This was driven by the technology, media and telecoms sector looking for higher volumes of space, particularly in the sub-5,000 sq ft category, Knight Frank said.
Stephen Clifton, head of central London at Knight Frank, said: "Central London's office market witnessed a high volume of activity in 2017 with record take-up by TMT firms. Whilst this shows tremendous confidence in London after the EU Referendum, supply also peaked in 2017 and is now in the process of falling.
"This implies that going forward there will be increased demands for pre-lets as there is a lack of quality supply in the pipeline, and this will put pressure on developers, landlords and operators in the market."
Since the financial recession there has also been a shift in the type of money behind developments with the percentage of development over the next five years funded by UK money is just 32%, Knight Frank added.
This has coincided with a noticeable rise in the volume of space, including projects yet to start, under the control of north America developers, which is at least in part because of the current currency advantage currently being enjoyed by overseas investors, Knight Frank said.