Project will also be university's first net-zero development
The London School of Economics has launched an international competition to design its first net zero carbon building in what will be one of the hottest contests of 2022.
The competition for an architect-led team is being run in conjunction with the RIBA. It will result in a new building at 35 Lincoln's Inn Fields, the last major project on the Aldwych campus for some time.
The LSE is upgrading its entire estate and has earnt itself a reputation as an enlightened architectural patron with the recently completed Marshall building by Grafton Architects, which was built by Mace, RSHP's Centre building, also built by Mace, and O'Donnell & Tuomey's Saw Swee Hock student centre built by Osborne.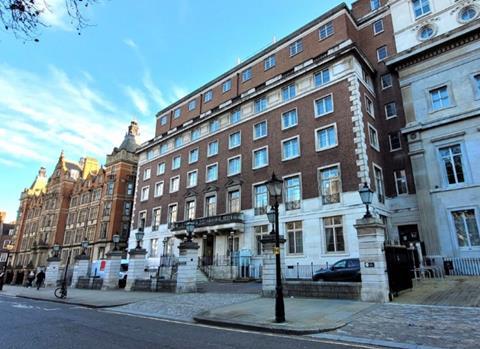 The new competition is expected to be fiercely contested by leading international practices.
Julian Robinson, LSE's director of estates, said he was open to smaller practices entering in partnership with more established firms, as well as to the possibility of international studios teaming up with local architects.
He said: "The LSE has curated a collection of world-class buildings on its campus and this project is likely to be the last for the foreseeable future. It therefore has to be an outstanding piece of architecture, further enhancing the reputation and brand of LSE."
The winning building would be distinctive, inspiring and suitable for its historic context in a conservation area, cementing the school's presence on the south side of Lincoln's Inn Fields while being firmly connected to the rest of the LSE estate, he added.
Social value would play an important role in the judges' assessment of entries, he said, with attention paid to practices' own principles.
The new academic building of 12,540 sq m will house conference facilities, executive education, a data science institute and associated academic departments as well as the Firoz Lalji Africa Institute.
Design teams will be asked to consider the most sustainable and cost-effective strategies that balance the need to save embodied carbon, including potential part-retention, against the creation of an efficient, adaptable and cost-effective design that reduces operating costs and optimises long-term sustainability.
The design competition is a two-stage process, with the deadline for expressions of interest 2pm on January 21.
After this a shortlist of up to six design teams will be selected and issued with the competition brief. The winning team will be selected from the design submissions.
All shortlisted teams will be paid an honorarium of £20,000 each.
The jury will be chaired by LSE president Monouche Shafi, with other jurors including Robinson, LSE Cities' Ricky Burdett and the donor, a former student, Firoz Lalji.