BuildUK and CLC call for more site closures
The chief executive of Mace has described the confusion that engulfed the construction industry yesterday as firms struggled to work out how the government's social distancing rules could apply to building sites.
On Monday evening Boris Johnson enlisted the police to enforce a ban all public gatherings of more than two people and an order for everyone to stay at least two metres apart at all times.
Mace CEO Mark Reynolds (pictured) told the BBC that, following the orders, "we did send out some messages to our own people saying please restrict working during yesterday. Because the prime minister's message came out so late, that message didn't get transferred to all our contractors working on sites.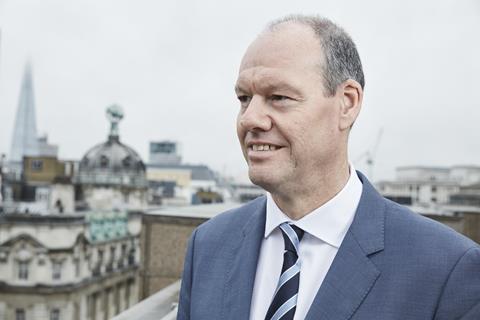 "I was clear that our projects were not compliant with Public Health England requirements, so we took the decision with a few others to pause work for 48 hours to understand if we could comply with [those] requirements."
Asked whether workers on building sites could maintain the two metre rule at all times, Reynolds said: "There is no way we can continue with the normal production rates so, in order to achieve the two metre social distancing requirements, we would have to restrict workers on site."
Yesterday health secretary Matt Hancock defended the government's decision to allow work in the construction and manufacturing sectors to continue and insisted that work "in many, many instances, the two metre rule can be applied".
>> Webinar - sign up now - Covid-19's impact on construction: The legal view
>> Coronavirus and construction: The latest
The situation on building sites has been complicated by the large proportion of self-employed site workers, who Reynolds says will not be paid by Mace if they do not show up for work "unless there is a support package by public sector clients or private sector clients".
He added that, while construction firms have deep pockets, they also have slim margins meaning they have limited resilience in the face of a shutdown that could last for several months.
At the same time the Construction Leadership Council, of which Reynolds is a member, and BuildUK have issued new guidance - signalling a change in approach by industry leaders.
In its daily coronavirus update BuildUK said: "The construction sector [is] caught between the government's advice and the overwhelming need to protect its workforce.
"The CLC has confirmed that all construction sites should assess their situation and those sites that cannot implement the site operating procedures published by the CLC should not remain open."
This is a sharp turnaround by the organisations who just last week were saying that it was essential that sites remained open.
An open letter to the government written on 17 March said: "During this challenging time, it is vital that our construction sites are able to remain open.
"Should the coronavirus cause a 'shut down' of the construction sector, we will face unprecedented challenges that we know from previous downturns will cause many companies and individuals to face significant financial repercussions."
It said that many construction companies would not have enough cash available to continue to pay suppliers and wages, even if there is a relatively limited period of economic inactivity.