Mark Reynolds says issue of importing materials is number one worry of no-deal Brexit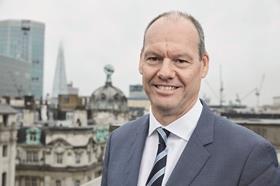 The chief executive of Mace has said it would be liable for up to £10m in damages if all of its jobs were held up by materials shortages caused by a no-deal Brexit.
Mark Reynolds made the warning as the industry prepares to hold a Brexit summit this afternoon at the ICE headquarters in central London.
Reynolds (pictured) said the most pressing concern about the UK leaving the EU without a deal at the end of March was the impact on importing materials – such as steel, aluminium and timber.
He said: "The contracts that are in place both government contracts and private sector contracts are very onerous on the supply chain.
"If I just look at it from a Mace point of view, we've circa £1.2bn worth of work and if that's delayed four weeks, all of it, across the board we could see damages in the order of £10m and loss of profit. Contractually we are liable. The short-term issue [of no-deal] is everything being slowed. The movement of goods is absolutely crucial. It's a huge risk to the industry."
In its latest results, Mace reported a pre-tax profit of £23m in 2017 on turnover of £1.9bn – meaning liabilities of £10m would cut its annual profit by nearly half.
UK construction sites are reliant on around 25% of products coming from overseas with close to 40% of this figure coming from the EU.
Reynolds added that a no-deal Brexit would "almost certainly [see] some form of delays, whether it's weeks or days".
His comments come as nine trade groups, including Build UK and the Civil Engineering Contractors Association, said there were close to 20 roles that were the hardest to recruit for with CECA chief executive Alasdair Reisner adding: "We have identified some key roles where recruitment is already very difficult, or where it will become so once migration from the EU is reduced post-Brexit."
This afternoon's Brexit summit will include chief executives from the major construction companies as well as a number of trade bodies.
.