Chief operating officer says market is too risky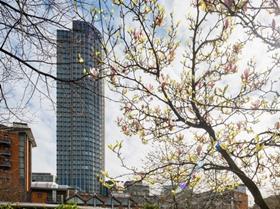 Mace has said it is scaling back the amount of residential jobs it will carry out in the future because the sector is too risky.
The contractor's chief operating officer Gareth Lewis said residential was "the hardest business to make money, the hardest business to satisfy clients, the hardest business to make a profit and engage a supply chain without hacking them all off".
Mace's resi business, which recently completed turning Richard Seifert's South Bank tower (pictured) on the south side of the river Thames at Blackfriars into luxury flats, has been running for 11 years and other jobs have included schemes at 3 Merchant Square in west London and Greenwich Square in south-east London which is due to complete next year.
"For us [Mace] we're going to shrink our residential component," Lewis said, adding: "It's an absolutely overheated market and demand is huge. We want to concentrate on key clients."
Lewis made his comments at a seminar on procurement, organised by consultant Arcadis.
Richard Baldwin, head of development at developer Derwent London, said the steep rise in house prices had led to subcontractors wanting "a slice of the cake" when it came to residential development and increasing their prices which was impacting on contractors.
Lewis also revealed the firm has invested into an onsite factory at an unnamed scheme which is planning to pre-fabricate up to 85% of the project. He added the firm's client had also pumped money into the facility which had seen productivity increase by 50% and put the job 10 weeks ahead of schedule.