Contractor overcomes problems to deliver 'Britain's most famous street'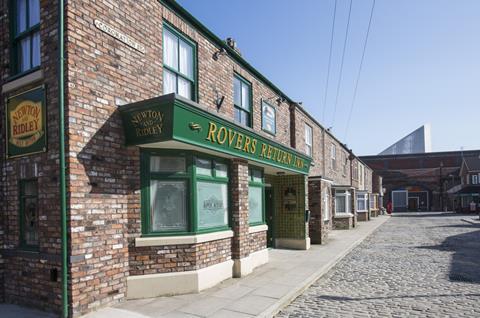 Mace has overcome setbacks to deliver arguably Britain's most famous street, improved television sets for ITV's long-running soap Coronation Street.
The new studios are built in Manchester's MediaCity complex in Salford and include a new external film set, two sound stage buildings, production facilities, offices and dressing rooms.
As Building first revealed in 2012, the project was hit with delays after problems were identified with part of the studio building's steel frame, forcing construction manager Mace to rebuild sections of it.
A total of 54,000 cobbles have been used, many recovered from canal side developments in Salford and Eccles and there are over 400,000 facing bricks on the lot, of which 144,000 were reclaimed from a derelict Salford street.
Every idiosyncrasy of the previous set had to be duplicated - so, for example, if the brickwork was 'bad' on a particular building on the old set, it had to be equally 'bad' on the new one.
Mace's project director Steve Gillingham said: "The project has been challenging but extremely exciting for us to be involved in. It has taken over 60 organisations and over 3,000 people to create and build Coronation Street's new home.
"The Mace Corrie team has done a great job in faithfully replicating the old set and the reaction from the cast, fans and the public to the new set has been incredibly positive."
Filming began at the site from January 2014.