Two science facilities to be built over the next three years in Oxfordshire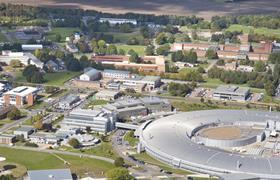 Mace has won a contract worth more than £90m to build two new science research facilities at the Harwell Campus in Oxfordshire.
It will serve as contractor on a two-stage design and build contract to deliver the facilities over the next three years.
The Rosalind Franklin Institute will bring together industry researchers to develop new technologies to tackle major challenges in health and life sciences, as well as accelerating the discovery of new treatments for chronic diseases such as dementia.
The National Satellite Testing Facility will act as a research centre to provide a set of co-located facilities for the assembly, integration and testing of space payloads and satellite.
Mace said this will facilitate the build of bigger and more technologically advanced satellites and remove the need for UK companies to use test facilities located abroad.