BEIS tells industry that energy saving devices can cost up to £35,000 each and could increase fuel bills
Heat pumps could cost homeowners up to £35,000 each, can emit noise which breaches legal limits and could increase fuel bills, the government has admitted.
The green heating systems, which work by absorbing heat from the environment, are a core part of the government's plans to make homes more energy efficient to help it achieve net zero carbon emissions by 2050.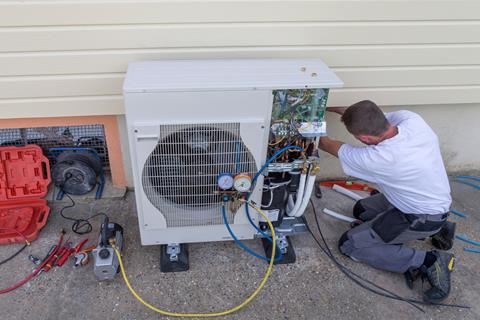 But the Department of Business, Energy and Industrial Strategy (BEIS) has said it faces a number of challenges in persuading homeowners to install the devices and conceded that it was "uncertain" what the "optimal solution" was.
At an online event for the industry on the issue last month, BEIS outlined the obstacles which it faces in achieving its target of installing 600,000 heat pumps each year by 2028 in the 24.5 million homes that need them.
It said that installation takes an average of 2.5 days but could take "several weeks" because of the need of some customers for a new electricity connection or fuse upgrade from the distribution network operator, while radiators and pipework might also need to be replaced.
It said that air source heat pumps, which generate heat from the air, can create noise that could breach permitted development regulations if too close to a neighbour's window, which it admitted could be difficult to avoid in many buildings.
And it said that many homes will not have enough space for the kit, which includes either an outdoor unit or ground array, added piping, a control unit, a hot water tank and a buffer tank.
Aesthetics are another issue, with one in 16 'green early adopters' being dissatisfied with how the heat pumps looked once installed.
BEIS said that cost is also a barrier to widespread adoption. Air source heat pumps are priced between £7,000 and £14,000 while ground source heat pumps, which get heat from holes drilled into the ground, cost from £15,000 to £35,000, with installation prices driven up further by the limited number of trained installers.
There are currently around 3,000 to 4,000 heat pump installers in the UK, compared to more than 130,000 gas boiler installers, but BEIS admitted that issues remain with "installation quality and consistency" even among those who are trained to install heat pumps.
It added that if the systems were poorly installed or fitted in buildings with high heat losses, they could increase fuel bills.
Laura Bishop, director of renewable energy engineering consultancy Infinitas Design and chair of the Ground Source Heat Pump Association (GSHPA), said the government had so far provided no clarity to the heat pump industry on how it plans to incentivise uptake.
Admitting that many homeowners would not be able to afford heat pumps at the current prices, she said: "It's an issue because what we need is the volume to make the price come down but we still don't have any promises from the government.
"If costs don't come down because we've not been promised the volume, we'll still be here in five years with the same prices."
She said that that she "fully expects" the government's heat and building strategy, which is set to be announced in the next few weeks, will contain "contentious points".
"It's going to be a very delicate policy. On the one hand, the government has got very stringent and very ambitious net zero targets but on the other hand they've got to balance up how that's going to effect real people."
But she added that if the government does not do something "drastic", it will never be able to hit its net zero targets.
The GSHPA and the two other trade bodies representing heat pump manufacturers, the Heat Pump Association and the Heat Pump Federation, are currently drawing up guidance for consumers on how heat pumps work and potential plans for bringing down costs.
Ministers have already announced that gas boilers will be banned from new-build homes in 2025 with reports last week saying they were discussing a cut-off date of 2035 for the installation of all conventional gas boilers.
What BEIS says
"Heat pumps will play a crucial role in decarbonising how we heat our homes and buildings and helping to eliminate our contribution to climate change. We will achieve our goal of installing 600k heat pumps a year by 2028 through targeted regulation, working with industry and financial support, all of which will be set out in our upcoming Heat and Buildings Strategy.
"The Heat and Buildings Strategy will be published in due course and will include targeted regulatory, market-based and public investment measures to incentivise low-carbon heat systems, which will help bring down costs."
On the challenges:
To ease consumer costs the Government has been providing financial support through schemes such as the domestic Renewable Heat Incentive
From April 2022, the Clean Heat Grant will provide support to households purchasing heat pumps
We have developed a package of policies to grow the heat pump market to 600k. Evidence from market research and industry engagement suggests that mass deployment of heat pumps in the UK could lead to a significant reduction in upfront costs for domestic-sized systems due to economies of scale and other efficiencies
As announced in the Energy White Paper in December 2020, we will shortly issue a call for evidence on affordability and fairness in the energy market
This will look at how future energy costs can be allocated in a way which is fair to all consumers and incentivises them to use cost-effective low-carbon technologies
This will include looking at the costs of gas and electricity bills and making sure they do not act as a significant barrier to the deployment of low-carbon technologies such as heat pumps
A well-designed heat pump system should not need to rely on any additional sources of heat, and when installed to the relevant standards and in a well-insulated home, running costs should be comparable to those of a gas or oil boiler. It is true that heat pumps generally have higher upfront costs than gas or oil boilers, but funding support is available to offset these costs
In early 2021 the Government consulted on introducing the MIS 3005 heat pump installation standard into Building Regulations to ensure the quality of heat pump installations
Only 3k to 4k heat pump installers in the UK
Government is working closely with industry to ensure that appropriate high-quality training is available, both for new entrants to the sector and existing heating installers who do not have heat pump experience
There are roughly 130,000 existing heating system installers in the UK, for whom upskilling to install heat pumps would take roughly one week of training
Generate noise which breaches legal limits
Issues relating to noise emissions from air source heat pumps are very rare and the UK has some of the tightest noise standards for heat pump installations in Europe
Modern, efficient heat pumps are quiet and generally no louder than average ambient background noise levels
To be allowed under permitted development, any heat pump must be installed in compliance with the Microgeneration Certification Scheme Planning Standard MCS-020 which stipulates that noise levels for an air source heat pump must beat or below 42 decibels one metre distance away from any habitable room of a neighbouring property. These standards are kept under review to ensure they continue to be fit for purpose
Slower to heat up than gas boiler
The level of satisfaction with heat pumps installed under the Renewable Heat Incentive Scheme are extremely high, with most consumers happy with levels of thermal comfort provided by the technology
Many homes do not have space for them
Responses to our 2018 call for evidence highlighted that electrification of heat is the one pathway to net zero proven to work at scale in homes off the gas grid – reinforced by results from BEIS modelling which shows that 80% of off grid fossil heated homes have sufficient energy efficiency and fuse limits to accommodate a heat pump
We recognise that some homes may not be suitable for a low temperature heat pump, alternative low-carbon solutions include high temperature heat pumps, solid biomass systems, and low-carbon heat networks
The Government is currently demonstrating the suitability of heat pumps in a range of different housing types as part of the £14.6m Electrification of Heat Demonstration Project. The project is also supporting the commercialisation of quieter, more efficient heat pumps – including higher temperature models – to extend the suitability of heat pumps into even more homes