Eight firms including Sir Robert McAlpine, Balfour Beatty and Skanska propose negotiated settlement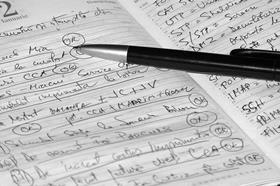 Eight of the UK's largest contractors are proposing an industry compensation scheme for victims of blacklisting, Building can reveal.
More than four-and-a-half years after the blacklisting scandal emerged with the discovery of a 3,200-name blacklist database held by the Consulting Association (TCA), Sir Robert McAlpine - the primary defendant in an ongoing High Court compensation claim brought by the Blacklist Support Group - has joined with seven other main contractors in launching a Construction Workers Compensation Scheme.
The others are Balfour Beatty, Carillion, Costain, Kier, Laing O'Rourke, Skanska and Vinci, all seven of which were named in August by Sir Robert McAlpine as co-defendants to the action as part of its legal defence.
At the time, Sir Robert McAlpine denied liability for any damages caused through its use of the services of TCA.
Two other major firms named as co-defendants by Sir Robert McAlpine - Bam and Amec - are not thought to be part of the scheme.
The blacklisting scandal has grown steadily in prominence over the past year largely thanks to the ongoing inquiry by the Scottish Affairs committee in the House of Commons, the case brought by the Blacklist Support Group and a second High Court action raised by the GMB union against a number of the same firms.
The new compensation scheme is intended for those whose names are on the TCA database and the eight companies now intend to negotiate with representatives of the blacklisted workers to determine the appropriate level of compensation for each individual.
The former chief executive of the government-funded mediation body Acas, John Taylor, is working on behalf of the group to broker an agreement, Building understands.
The eight firms are believed to be encouraging other construction companies which also used TCA to join the scheme.
They are also expected to issue an apology for the effects of blacklisting and propose an industry-wide code of conduct to prevent any recurrence of blacklisting, something first proposed in Building in July by UK Contractors Group chairman James Wates.
The 44 construction firms that used the services of the Midlands-based TCA - which was run by the late Ian Kerr -paid an annual £3,000-a-year subscription plus £2.20 for each blacklist check made.
Some firms spent hundreds of thousands of pounds in total with Sir Robert McAlpine and Skanska both spending more than £200,000 over the entire period that TCA was used.
The full database of 3,200 names is held by the Information Commissioner's Office, which uncovered TCA but so far has only positively identified around 400 of these individuals.
The ICO has cited the Data Protection Act in insisting that people who suspect they were on the blacklist contact the ICO to confirm this.
Speaking on the BBC's Radio 4 Today programme this morning, Justin Bowden, national officer at the GMB union, said: "We're viewing this as an admission that these companies did blacklist our members.
"We hope that what is a slightly luke warm apology is in fact a well meant and well intentioned effort to move this forward."
Bowden said he wanted to see industry "cleansed" of those involved in blacklisting and for compensation to be paid to hose affected by the practice.
He said compensation could run into the "hundreds of millions of pounds".
Labour's shadow business secretary Chuka Umunna said that while the announcement was a "welcome step" it was disappointing that it only covered eight firms.
He said: "Labour has led calls for those companies guilty of blacklisting to come forward, apologise and provide compensation to victims of the scandal.
"This announcement is a welcome step, though it should have been made a long time ago.
"Given that 44 companies have been named as having used the construction industry blacklist, it is regrettable this announcement only covers eight firms.
"We will be closely monitoring and scrutinising the compensation scheme as it progresses to ensure it provides proper redress to victims swiftly and commands confidence.
"It also underlines the need for a full inquiry into the blacklisting scandal to make sure it is never repeated. If ministers refuse to take this crucial step, a future Labour government will."
Steve Murphy general secretary of UCATT, said: "While this could be a significant victory in the battle for justice for the blacklisted workers, there is still a great deal of information we do not yet have including how the scheme will work and who will be eligible.
"Until we have all the information and it is clear that the scheme is, transparent, open and accessible to all victims of blacklisting we cannot endorse it."
Murphy added that UCATT would continue its campaign for a full public inquiry into blacklisting.