Bring people into town centres and shops will follow, says Ken Shuttleworth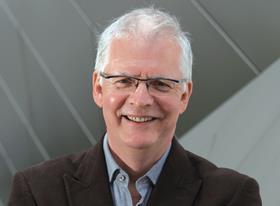 Encouraging universities, offices and old people's homes to relocate into town centres could help ailing high streets, the founder of Make Architects has said.
These are some of the conclusions of a detailed report published today by the Future Spaces Foundation, a think tank set up by Ken Shuttleworth last year.
By focusing on bringing people back into town centres demand for shops and cafes will naturally follow, it argues.
Focusing on trying to turn the tide of online retailing is a lost cause, it adds, in a dig at retail guru Mary Portas.
"There has been some concern that the towns selected as 'Portas pilots' have continued to lose occupiers," it notes.
Shuttleworth's report, The Future High Street, says Britain must "abandon our predilection for large-scale office complexes in the suburbs and instead build them in town centres to generate increased footfall".
It also suggests towns could exploit the growth of 3D printing to bring micro-manufacturing into high streets.
And it calls for greater community empowerment in the planning process, including a youth consultation panel.
Simplifying planning processes to enable town centre sites to be converted to uses that match demand is another recommendation.
"The current system is broken," said Shuttleworth. "Time and again we have seen outdated models of regeneration fail to revitalise our high streets and town centres.
"It is time to go right to the crux of the issue, identify all of the elements that contribute to a vibrant space and then in a logical but creative way rebuild the heart of our communities.
"By attracting people to high streets these spaces will become more vibrant and lively, which in turn will lead to an increased demand for a variety of services, including retail outlets, cafes and libraries."
The report's findings were applied virtually to Stoke, Barnsley and Swindon and found to boost the economy by £30m.
The report praised Coventry as a city with strong links between its university and the community. An influx of international students had sparked the opening of shops and restaurants aimed at them opening in formerly vacant town centre buildings.
It also noted London's Royal Festival Hall as a successful example of diversification, with its spaces being used by self-employed workers during the day and schoolchildren doing their homework in the afternoon.
Paul Swinney, senior economist at the Centre for Cities and an FSF panellist, said policy-makers had concentrated too closely on retail as the solution to reviving the high street.
But he said: "This is too narrow – retailers require footfall and this footfall is created by people coming to use high streets as places of work, leisure and residence. Only by addressing issues facing city centre working, learning and living can we hope to bring people back to town and city centres. Then retailers will benefit as a result.
"This report shows that the combination of education, research and employment opportunities provided by universities and centres of learning is one route that national and local government can use for rejuvenating our high street from both an economic and a social perspective."