A report from University of Manchester's business school found 'transport and housing is failing communities in the outer boroughs'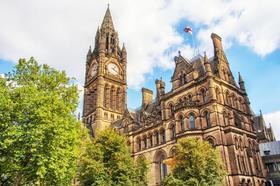 Manchester faces a looming crisis as its housing and transport infrastructure does not match social needs because of a "misguided" developer-led regeneration strategy, according to an Alliance Manchester Business School report.
The report, which was created by the University of Manchester's business school, found regeneration in the UK's ninth largest city over the past 30 years had focused disproportionately on new flats and offices in the two central boroughs of Manchester and Salford.
It also found that public transport investment had been focused on trams which carry many fewer passengers than buses.
The study's authors, Julie Froud, Mike Hodson, Andy McMeekin, Anne Stafford, Pam Stapleton, Hua Wei and Karel Williams, argued that private property developers, fail to consider the transport and social infrastructure – such as schools, libraries and broadband – communities need.
Williams, professor of accounting and political economy at Alliance Manchester Business School, who led the research team, said: "Nobody can argue that major progress has not been made in regenerating Manchester's city centre in the two decades since the IRA bomb, much to the city council's credit.
"However, regeneration is about more than just new buildings in the centre of Manchester – it should benefit all communities in the wider city region too. But – transport and housing is failing communities in the outer boroughs. This is a direct result of the misguided approach of developer-led regeneration.
"The city centre is increasingly built over and developers are constantly looking for brownfield land on the edges of the centre or green field development in the outer boroughs. Current regeneration plans and frameworks aren't fit for the purposes of controlling and limiting development in the interests of communities.
"We hope that our analysis shines a light on the huge challenge facing Greater Manchester in the near future. In many ways the shiny, high rise, new build flats and offices in the city creates a misleading impression of a prospering city region. But across the outer boroughs – principally in terms of social infrastructure like housing and amenities – regen is failing our communities, and that requires a change in thinking."
The report also criticised central government for failing to hand councils and new metro mayors greater powers and funding for transport improvements, housing and other infrastructure improvements.
Looking forward, the report calls for the Greater Manchester Combined Authority to create a long-term strategy that focuses on the wellbeing of all citizens across Greater Manchester's 10 boroughs.