Survey by insurance company points to problems for firms with between £5m and £300m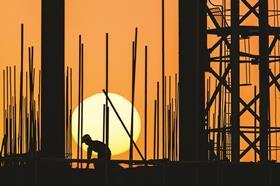 Maintaining profit margins as costs rise is proving a big challenge for medium-sized contractors and housebuilders, according to a survey by Zurich Insurance shared exclusively with Building.
Profit margins and rising costs were cited as the two biggest challenges by the 200 builders with turnover between £5m and £300m that were surveyed by Zurich - with the issues cited by 21% and 18% of firms respectively.
Meanwhile, availability of materials was judged the biggest challenge by 14% of firms, and cashflow and payment problems were a challenge for 11%.
Rising costs were cited by three-quarters of firms surveyed, Zurich said, with respondents saying they planned to factor costs into tenders, be more mindful of costs, or "shop around" for better deals to mitigate the problem.
Commenting on the survey, Paul Bogle, head of policy and research at the National Federation of Builders, which represents many medium-sized contractors, said it was "quite difficult" to manage profit margins and cost increases.
He said: "We [the industry] did experience a longer downturn than other industries and so winning work at that time was incredibly cut-throat and people were essentially cutting their costs […]
"But then you fast-forward a year or 18 months and the economy's looking up and prices are rising. You're committed to those lower prices that you agreed, but you're paying for them in a market where prices are much higher."
Another challenge cited by respondents to the Zurich survey was a lack of good quality workmanship on sites, mentioned by 14% of firms.
Some 6% of those interviewed have addressed this by forming partnerships with local colleges, while 35% were focusing on building stronger relationships with their staff through training.
Materials shortages have prompted many firms also to seek to strengthen relationships with suppliers, Zurich found, while 10% of firms surveyed said they were ordering in from abroad.
The growing insurance claims culture is another challenge more firms are taking into account, with 57% expecting insurance claims to increase in the next couple of years.