Pane of glass fell from Mace's 240 Blackfriars scheme last year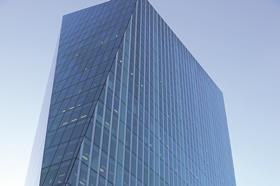 Masking tape is being blamed for a pane of glass that fell from a new AHMM building on Blackfriars Road in London.
The 19-floor building is the new home of Building publisher UBM and last October an outer pane of glass from a double glazed unit fell several storeys onto the street below. No one was injured but the developer behind 240 Blackfriars, Great Portland Estates, promised an investigation.
The building appears on the cover of the firm's 2015 annual report and in it, the developer said: "A detailed investigation revealed that a piece of masking tape used during manufacture was inadvertently left in place on this single pane which eventually caused it to become detached from the cladding unit.
"Our investigation works are almost complete and we expect to establish that the manufacturing error was limited to this individual pane of glass."
The £65 million project, which was built by contractor Mace, reached completion earlier in 2014.
UBM's previous home at Ludgate House is due to be demolished later this year. It is being torn down along with the nearby Samson House and will be replaced by a scheme designed by PLP which includes a 48-storey tower.
This story first appeared on Building's sister publication BD here