Theresa May set to promise housing associations a long-term funding pipeline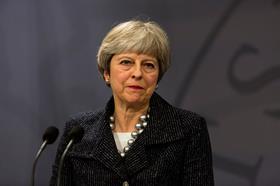 The government is set to announce £2bn of new long-term funding for affordable housing and look to housing associations to develop schemes themselves.
Speaking at the National Housing Federation Summit in central London prime minister Theresa May announced new long-term funding for housing associations, which allow them to build social and affordable housing.
May (pictured) said: "New longer-term partnerships will be opened up to the most ambitious housing associations through a ground-breaking £2bn initiative. Under the scheme, associations will be able to apply for funding stretching as far ahead as 2028/29 – the first time any government has offered housing associations such long-term certainty.
"Doing so will give you the stability you need to get tens of thousands of affordable and social homes built where they are needed most, and make it easier for you to leverage the private finance you need to build many more."
May added that housing associations have a particularly important role to play in tackling the housing crisis.
She said: "I want to see housing associations taking on and leading major developments themselves. Because creating the kind of large-scale, high-quality developments this country needs requires a special kind of leadership – leadership you are uniquely well-placed to provide.
"Given the right tools and the right support, you can act as the strategic, long-term investors in the kind of high-quality places this country needs. To put it simply, you get homes built. And I want to work with you to transform the way we do so."
Industry has welcomed the announcement move, saying the long-term nature of the funding is significant.
Paul Hackett, chair of the G15 group of housing associations and chief executive of Optivo, said: "The housing association sector has been calling on government to enter into long-term strategic funding deals for some time. Fixing the housing crisis requires long-term solutions.
"This long-term approach has a number of advantages including the ability to work with our supply chain and landowners to build more homes; to work with training providers to offer more construction training opportunities; and to work with off-site-manufacturers to help modernise the way we build."
Chartered Institute of Housing deputy chief executive Gavin Smart said: "Long-term certainty will give housing associations the confidence they need to invest. And long-term partnerships will enable more housing associations to take the lead in developing their own land and reduce their reliance on private developers, helping to boost the numbers of new homes we build as a nation."
But he added: "It's crucial that government investment helps housing associations to build the right kind of homes at the right prices. In practice this means building more homes at the lowest social rents – which is often the only truly affordable option for people on lower incomes."
And Ben Denton, managing director of Legal & General Affordable Homes, said: "Whilst good news, there is still more work to be done. Over the past decade, only 3,000 affordable homes have been delivered each year, highlighting the need to smooth the way for more institutional money to enter the sector."