Cricket ground's £21m stand is the first stage of a £200m redevelopment of the facility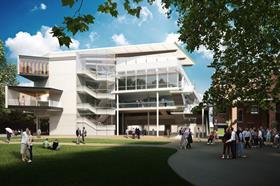 Mayor of London Boris Johnson has given the green light to Lord's cricket ground's new Warner stand, the first stage of a £200m redevelopment of the ground.
The £21m stand, which, as Building revealed in February, is being built by Bam Construction, will include 2,900 seats, a restaurant, three bars and facilities for match officials.
The plans, drawn up by Olympic stadium architect Populous, also include a series of green features such as ground source heat pumps and photovoltaic panels.
The Marylebone Cricket Club (MCC), which owns and operates Lord's, received approval for its plans from Westminster council in March, but has been waiting for a decision from the Mayor.
Johnson said: "There is no better way to spend a warm summer's afternoon than listening to the glorious sound of leather on willow at the home of cricket, Lords.
"The new Warner Stand combines the very best of twenty-first century architecture with state-of-the-art facilities and will enhance the overall visitor experience by improving sight-lines and accessibility, with a new restaurant overlooking the field of play.
"The stand will enrich the unique character of Lords and ensure that it remains the most idyllic cricket venue in the world for many years to come."