MPs say firm's links to blacklisting mean it should not have been awarded deal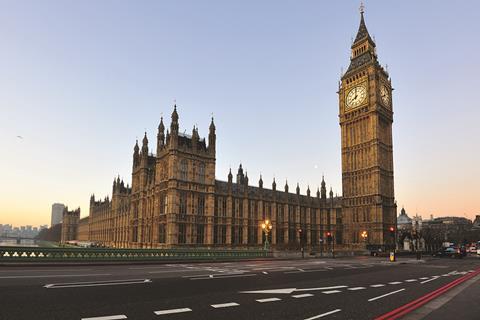 Sir Robert McAlpine has hit back at MPs who want it to be pulled from the contract to refurbish Big Ben because of its links to blacklisting.
Dozens of Labour MPs have signed an early day motion – a debate on a subject in the House of Commons on a day that has not yet been fixed – calling for the firm to be dropped from the work.
Among those signing the motion are the former deputy leader of the Labour party Harriet Harman, Tottenham MP David Lammy, Stephen Kinnock, son of former party leader Neil, and former shadow business secretary Chuka Umunna. A number of SNP MPs, including its home affairs spokesperson Joanna Cherry, have added their names to the motion as well.
The motion says "that awarding the contract to McAlpine is inappropriate and an insult to the victims of blacklisting in the construction sector and sends a message that firms can engage in such unacceptable practices without serious consequences".
It calls on awarding authority the House of Commons and House of Lords Commissions "to rethink thier decision and award the contract to another construction company that does not have a history of involvement in blacklisting".
But the Olympic stadium builder, which earlier this summer appointed Paul Hamer, the chief executive of consultant WYG, to run the company after a year-long search, said the issue of blacklisting was "firmly in the past".
McAlpine was one of a number of firms caught up in the scandal eight years ago when the Information Commissioner raided the offices of the Consulting Association and found a blacklist of over 3,000 construction workers that had been used by firms to vet employees.
The firm said it had won the contract following a thorough review of its operational procedures by parliament's procurement team and added: "There is no blacklisting at Sir Robert McAlpine. We have a zero-tolerance policy towards blacklisting, illegal or unfair recruitment practices and we expect all of our sub-contractors to comply with this policy.
"Blacklisting in construction was, until 2009, an industry-wide issue – most of the largest British construction companies in operation today were involved in the past, when there was no legislation in place to outlaw the practice. Sir Robert McAlpine has admitted and apologised for its past involvement and has paid compensation to affected workers.
"As part of the tender process for the project, parliament's procurement team undertook a thorough review of our operational procedures before the contract was awarded.
"Our HR and recruitment processes met parliament's high standards and it found absolutely no evidence that blacklisting is being supported or encouraged. For Sir Robert McAlpine, the issue of blacklisting is firmly in the past."
McAlpine was one of eight companies that later apologised and paid financial settlements to blacklisted workers through the High Court.