The £42m scheme is set to be delivered by 2021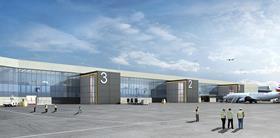 A joint venture between Sir Robert McAlpine and local firm Garenne Construction has been named as the preferred bidder to deliver pre-construction services for an overhaul of Jersey airport.
The partnership, known as GSRM, was chosen by Ports of Jersey for the role on the £42m scheme.
The project, which involves both refurbishment and new build, is set to address key regulatory issues and make sure the airport remains compliant in terms of safety and security.
The overhaul is also expected to increase the capacity of the airport for both air traffic and passenger numbers.
Work is currently expected to start before the end of the year and last until 2021.
In March the J3 joint venture between McAlpine, Garenne Construction Group, which is based in the Channel Islands, and FES Group secured a pre-construction role for the £466m project to develop Jersey's new hospital.