Scaffolding will start going up in January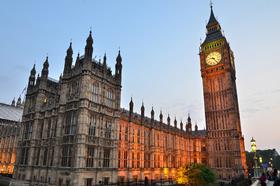 Sir Robert McAlpine has landed a high-profile scheme to carry out a £3.5m scaffolding contract at Big Ben ahead of vital conservation work on the world famous tower.
The work will take place on the Palace of Westminster's 96m tall Elizabeth tower designed by architects Charles Barry and Augustus Welby Pugin, the Great Clock and the Great Bell – better known as Big Ben.
Scaffolding will start going up in January with initial work taking up to six months to complete.
The tower, which was completed in 1856, is considered structurally sound but cracks have developed on the roof and leaks have caused damage internally while corrosion to the bell frame has caused one of the feet supporting the quarter bells and Big Ben to split.
Stonework damage is also present at high levels and the famous Ayrton Light, which tops the Tower and shines to indicate that Parliament is sitting, needs to be fully dismantled and restored.
The Great Clock after 157 years of service has worn parts that need replacing.
McAlpine's work for the UK Parliamentary Estate also includes a pre-construction service agreement with the entire work on the Elizabeth tower taking three years and costing £29m.