The social housing contractor also undertook a review of cladding systems installed over the last five years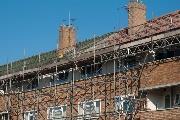 Mears Group has said it expects the tragic fire in June at Grenfell Tower in west London to impact its housing division this year.
The firm, in its latest half year results, said delays to its planned workloads and procurement decisions as clients review the commissioning and safety practices at their properties were likely.
This has resulted in Mears revising down its forecasted revenue from its housing division, which makes up 85% of the company's total revenue, for 2017 from £830m to £800m, which it said would also result in a loss of profit and lower overhead recovery.
Mears added that it had also reviewed its contract delivery register to "ensure a high level of detail around product specification continues to be captured and can be easily retrieved" following government concerns around Aluminium Composite Material (ACM) cladding systems.
A review of façade systems installed in dwellings over the last five years was undertaken and the firm reported that it had "no instances" of ACM cladding being utilised.
Mears said it would "continue to monitor this situation closely as a number of key clients complete their compliance reviews over the next few months", but expected the delays to be temporary.
David Miles, chief executive at Mears, said: "Whilst the likely revenue shortfall for the full year is frustrating, it is entirely understandable in the circumstances and the group will be working closely with its partners and clients at this time to address their immediate priorities. Our order book remains strong and the board remains confident in the group's future prospects."
Mears reported slight growth in revenue for the first six months of the year to £471m, up from £466m for the previous year, while pre-tax profit remained flat at £12.7m.