Labour leader criticises government over failure to deliver on infrastructure plans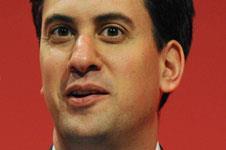 Ed Miliband went to the attack today over the government's failure to deliver on its infrastructure promises.
The Labour leader used prime minister's questions to highlight the gap between the government's rhetoric on its measures to boost infrastructure and the reality of its delivery.
Miliband said the government had promised that 261 schools would be refurbished or rebuilt through its flagship Priority School Building Programme, but to date construction had only started on one project.
He said the government had detailed 571 priority projects in its 2011 infrastructure plan, but construction had only started on seven of those.
Miliband said: "The British Chambers for Commerce says the government plan for infrastructure is 'hot air, a complete fiction' - even the deputy prime minister [Nick Clegg] has woke up to the problem - he said 'the gap between announcement and delivery is quite significant' - no kidding.
"Why should we believe the announcements the Chancellor makes today?"
David Cameron said infrastructure spending under the government has been higher than it was under the previous Labour government, and the government was focused on "clear[ing] up the appalling mess" left by Labour.