Don Foster says he is working with Ed Davey to ensure private landlords can use Green Deal to retrofit vacant properties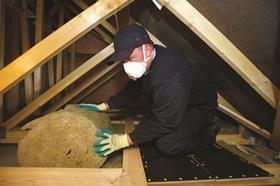 Ministers are exploring measure to enable landlords in the private-rented sector to more easily improve the energy efficiency of their properties through the Green Deal programme, building regulations minister Don Foster has revealed.
Speaking at a fringe meeting the Liberal Democrat conference this week, which was hosted by the UK Green Building Council (UKGBC) in partnership with Building magazine and Ecobuild, Foster said he was working with energy secretary Ed Davey to find ways to ensure that landlords can take out a Green Deal on their property when it is vacant.
Currently, private sector landlords must seek permission from their tenants before taking out a Green Deal, with the tenant, as the bill payer, signing off on the Green Deal finance plan that then enables the cost of the energy efficiency payments to be paid off through their electricity bill.
However, this means that landlords with vacant properties are unable to take out a Green Deal until there is a tenant.
Speaking at the fringe event, Foster said it was "absolutely ludicrous" that the Green Deal could not currently be used as a mechanism to deliver energy efficient retro-fitting to vacant properties and said vacant properties were a "great opportunity".
John Alker, UKGBC director of policy and communication, said the move made sense as it was an ideal time for landlords to retrofit their properties while they were vacant, with the property then marketed as energy efficient and the Green Deal charge applied to the next tenant's bill. "That way there is no disruption to a tenant while the work gets done," he said.
Foster also praised Building's Green For Growth campaign, which has called for the government to boost the Green Deal through incentives, saying that its key aspirations could easily be "ticked off" as Liberal Democrat environmental policy.
This week the Liberal Democrats adopted incentives for people to take-up the Green Deal, such as by bringing in variable rates of stamp duty and council tax based on the energy efficiency of a property, as official party policy.
However, Foster indicated that it was unlikely that the government would introduce new incentives for the Green Deal this side of the next election.
Foster also said that following the publication of the government's consultation on its housing standards review last month, ministers were giving serious consideration to the possibility of a national minimum space standard, which was mooted in the consultation.
The consultation said the government was considering introducing minimum national space standards, but had not yet decided to implement the policy, noting the government's preference for voluntary, market-based mechanisms.
But Foster criticised the UK housing industry for poor space standards in new homes, saying the industry had "delivered rabbit hutches far too often, particularly with social housing".
"Minimum space regulations is something we seriously now have to consider as the market has simply not delivered it," he said.
Expanding more generally on the relationship between the construction industry and regulations, Foster stated that there was an ongoing need to "find a balance between what the market will deliver and where regulation is needed" and he acknowleged that rather than stifling investment, regulations provided the "certainty" that the industry craves.
He also challenged the industry to provide more rigorous impact assessments in order to "close the performance gap" on energy efficiency and empower his negotiations with Chancellor George Osborne.
Foster also revealed that there is "real gowing interest within government in offsite construction techniques" and called for smart meters to become "even smarter" in responding to energy users' lifestyles.