But measures to drive take-up must wait until market is up and running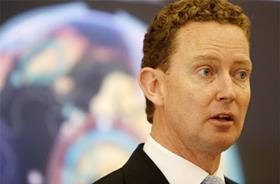 Energy minister Greg Barker has said the government will consider mechanisms to drive take-up of the Green Deal, but not until after the market for the flagship energy efficiency scheme is up and running.
Barker's comments at the Conservative Party conference this week came as an industry taskforce was launched to advise the government on various forms of incentives for households to take up the Green Deal.
Barker (pictured) said the government was still considering proposed changes to Part L of the Building Regulations, known as consequential improvements, that would require householders to undertake energy efficiency work when they make other home improvements.
But he said decisions on whether consequential improvements or some other mechanism was used to drive take-up, such as council tax incentives, would need to wait until the Green Deal market was up and running.
He said: "What I want to see is how the market reacts because at the moment it's all hypothetical. Until we see the market up and running we won't know which is the most effective way to get customer take-up."
Barker's comments on possible incentives for Green Deal take-up came as the UK Green Building Council launched a cross-industry taskforce to advise the government on how best to incentivise take-up.
The group, which includes a range of key stakeholders including contractors Carillion, Willmott Dixon and consultant Sweett Group, will assess a range of possible financial incentives for householders, including using variable rates of council tax and stamp duty (see box below).
The news comes amid concerns that the Green Deal's "soft launch" and delays to its full implementation could undermine the industry.
Barker stoked further uncertainty about the status of the flagship policy this week after telling an audience at a fringe event at the Tory conference that the Green Deal "didn't launch last week". "What happened was that the first part of the Green Deal architecture went live," he said.
"The Green Deal per se has several different parts but it would be incorrect to say that the Green Deal launched either loudly or quietly last week," he said.
Green Deal taskforce will examine incentives to boost take-up including:
Stamp duty banding/rebates
Council tax banding/rebates
Energy efficiency feed-in tariff
Subsidised interest rates for Green Deal
Low interest loans (outside Green Deal)/ Green mortgages (underwritten by government)
Lump sum grant/payment (cashback/vouchers)
Progressively tightening minimum standards, including extending to owner-occupied sector
Salary sacrifice (tax free scheme) through work/tax credits
VAT cut extension to a wider range of measures

Tory conference in brief
Airport capacity commission
Transport secretary Patrick McLoughlin called for all parties to back the government's commission to examine the future of airport capacity. He also said the government would shortly publish details of the next stage of the HS2 line from Birmingham to the north of England.
Call for housing to drive growth
Housebuilders joined forces with the CBI to demand that the government use housing to drive growth. The campaign, which is backed by a 40-strong coalition including the Home Builders Federation, the National Housing Federation, the RIBA, Chartered Institute of Housing and charity Crisis, argues that boosting supply will spur economic growth as well as tackling the growing housing crisis.
Infrastructure levy reform
Planning minister Nick Boles said the government is examining means of amending the Community Infrastructure Levy on development intended to fund new infrastructure. The amendments are intended to make the levy more beneficial to local people directly affected.
Shares-for-rights scheme
Chancellor George Osborne set out plans to enable employees to buy shares in the companies they work for if they give up their employment rights. Under the "shares-for-rights" scheme employees would be given £2,000-£50,000 of shares that are exempt from capital gains tax. In exchange, employees would give up their UK rights on unfair dismissal, redundancy, and the right to request flexible working and time off for training, and would be required to provide 16 weeks' notice of a date of return from maternity leave, instead of the usual eight.