Company posts strong results despite plans to close engineering services in Scotland and South-west
Mitie has reported a 12% jump in profit to £47.5m for the half year to 30 September, bucking the trend of outsourcing companies recently hit by government cuts.
Revenue was also up by 14.7% to £918.7m. The results came just four days after Capita, the parent company of consultant Capita Symonds, told the City that cuts in public spending were beginning to dampen company growth.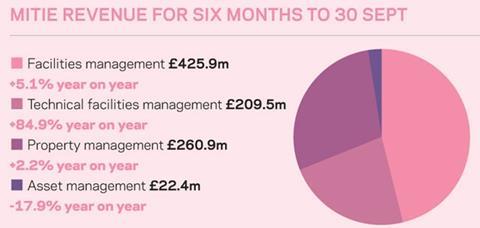 Ruby McGregor-Smith, Mitie chief executive, said that the figures were "a strong set of results in turbulent times".
"The majority of revenue growth came from acquisitions," she said, adding that underlying organic growth was 1.6% but that this was expected to increase in the second half of the financial year.
Yet results for the property and asset management divisions of the company were much weaker than for the rest of the group, with the latter's revenue plummeting by 17.9%.
Property management revenues grew 2.2% to £260.9m while operating profits contracted from £13.5m to £12.4m.
Mitie said it would end engineering services - part of the property management division of the group - in Scotland and the South-west, at a cost of £4m over this financial year.
McGregor-Smith said the company had not "been able to win significant amounts of work" and had been hit by "low margins, and more competition" in the sector.
"We [also] saw some challenges, particularly in the area of plumbing and heating." The asset management division made a £700,000 loss and revenues fell from £27.3m to £22.4m.