But Health & Safety Executive criticises attempts to "trivialise" safety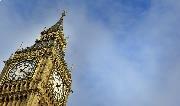 The decision to silence Big Ben's bongs until 2021 will be reviewed when parliament returns in the autumn, after "concerns" were expressed by MPs.
The House of Commons said earlier this week that the famous bell will sound for the last time in four years on Monday 21 August, to protect the hearing of workers carrying out conservation work.
But it has today announced a review of this decision, following criticism in the media and by MPs.
A new statement from the Commons said: "When Parliament returns, in light of concerns expressed by a number of MPs, the House of Commons Commission will consider the length of time that the bells will fall silent. Of course, any discussion will focus on undertaking the work efficiently, protecting the health and safety of those involved, and seeking to ensure resumption of normal service as soon as is practicable given those requirements."
It added that the bells will cease to ring, as planned, following the chimes at noon on 21 August.
The criticism of the original plan to silence Big Ben till 2021 led the Health & Safety Executive (HSE) to defend the decision.
A spokesperson said: "As part of our regulatory role, HSE has liaised with both the client and the principal contractor on this major construction project in central London.
"We've been concerned by a minority of the reaction to the announcement relating to the Big Ben conservation project in London. People's health should not be made worse by the work they do, so it is important that no worker should suffer any hearing loss while working on this project. We find any attempt to trivialise this unhelpful.
"There is broad agreement that the noise risks associated with working around the clock bells are highly significant and we would expect the principal contractor to manage those risks."
The Elizabeth Tower, home to the Great Clock and the 13.7-tonne Great Bell – popularly known as Big Ben – is undergoing a complex programme of renovation work.
Sir Robert McAlpine was appointed last November for the £3.5m preconstruction contract, which involved assembly of scaffolding around the tower. A contractor for the main £29m restoration contract is due to be appointed in the autumn.