Public Accounts Committee raised concerns earlier this month about transport department's ability to manage job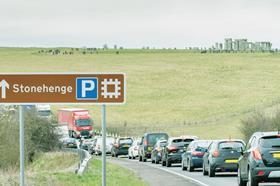 Highways England has kicked off the search for a main contractor to build the £1.7bn Stonehenge road tunnel, despite watchdog MPs' concerns about the viability of the scheme.
On a contract notice for the main contractor job, which was published today, Highways England has said the contract will be worth £1.25bn to the winning team.
The government's roads agency is looking to draw up a shortlist of three firms or JVs to carry out the job, which it says will run for up to 13 years including provisions for up to seven years of maintenance work.
The successful bidder will also be responsible for the design and construction of the tunnel, as well as the replacement and modification of existing assets.
Earlier this month, the Public Accounts Committee flagged the lack of a secure funding plan and the transport department's poor track record when it came to delivering major projects among the obstacles to plans to build the £1.7bn Stonehenge tunnel scheme.
In a report published on 3 July, the committee said delaying financial decisions would jeopardise the proposed opening date.
They said: "After several failed attempts, the government believes that it now has a Stonehenge tunnel scheme that is affordable, deliverable and has the support of heritage and environmental bodies.
"However, decisions on how to fund the project are on the critical path for the planned opening date of 2026 and are now at the mercy of the much-awaited Spending Review."
The PAC also questioned the viability of the scheme given the transport department's historic performance when it came to major projects.
The report said: "It will be extremely challenging to deliver the South West road improvements to cost and time and the department does not have a good track record in delivering major projects.
"The region needs a properly integrated transport strategy, going beyond road to incorporate rail, sea and air, but the bodies tasked with delivering this strategy are still very immature."
The Stonehenge tunnel project is a key part of the government's plans for the A303 road corridor which centres on eight roads schemes including work on the A358.