MPs criticise government over its lack of support for firms developing innovative low carbon construction products and services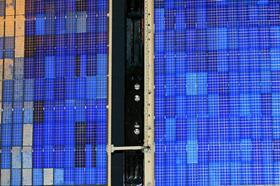 MPs have criticised the government's limited and "muddled" support for firms developing innovative low carbon construction products and services.
A report by the Energy and Climate Change select committee said there was a "mismatch between the resources allocated by the government to support companies and its level of ambition" for low carbon innovation across the UK economy.
It said the government's Low Carbon Innovation Co-ordination Group (LCICG) – a collection of public bodies designed to co-ordinate the government's support in this area – had "muddled governance" arrangements and suffered from a "lack of staff".
It said the Department of Energy and Climate Change (DECC), which oversees the group, had admitted that a lack of staff prevented the LCICG helping British firms access European Union funds that are available to support low-carbon innovation.
It also said a lack of resources left it unable to shape European energy efficiency standards for products such as heat pumps.
This is not the first time the government has been criticised over its lack of support for low carbon technologies.
In 2010, the National Audit Office published a report saying support for low carbon technology was "poorly coordinated".
Tim Yeo, chair of the committee, said: "It is unsatisfactory that four years after the National Audit Office criticised DECC's support for businesses developing innovative sustainable technologies, the government still hasn't tackled the poor communication and coordination between its low carbon innovation group and businesses and broader innovation partners."
A DECC spokesperson said the government has "sent out an unequivocal signal" that it was "serious" about creating a "low carbon economy".
She added: "We have improved our coordination with universities, industry and other public sector funders and we will continue to build on effective collaborations and target our funding to maximum effect."