Pair joined by O'Rourke and McAlpine on shortlist
Multiplex and Mace are expected to find out later this summer who has won the prized deal to mastermind the scheme to redevelop the grade II-listed Whiteleys shopping centre in west London.
The pair have been joined on the shortlist by Sir Robert McAlpine and Laing O'Rourke which will see the winner turn the 1980s shopping centre behind the historic 1911 Queensway façade in Bayswater into a residential and hotel mixed-use development.
Demolition contractor Erith, which has been carrying out work at the site of Sellar's planned Cube scheme in nearby Paddington, has begun tearing down the centre's car park and is due to begin later this month on the main shopping centre itself with this part of the job due to be finished in November.
The scheme is one of the biggest currently up for grabs with one source saying the value of the main contract was around £250m. Fit-out work is set to be an extra £150m.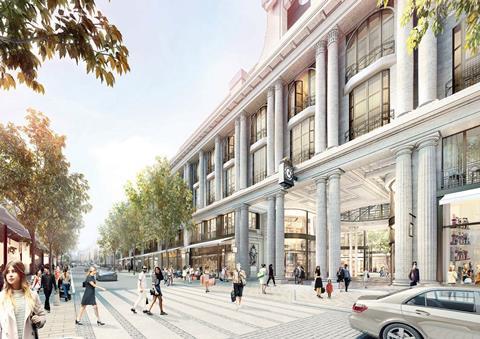 In addition, four firms have been shortlisted for the concrete frame contract – Morrisroe, Byrne Bros, Careys and O'Rourke-owned Expanded.
The redevelopment is being headed by a joint venture between a Meyer Bergman-advised fund and Warrior Group with development manager on the scheme, luxury property firm Finchatton. The firm is behind an upmarket residential scheme at 20 Grosvenor Square – the Mayfair square that was once home to the US embassy – which is being built by Multiplex. Mace is working at 1 Grosvenor Square for another upmarket developer, Lodha.
Designed by Foster + Partners, the Whiteleys scheme will include 129 homes, along with 100,000 sq ft of shops, a cinema and a hotel.
Others working on the £1bn development include project manager Gardiner & Theobald, QS Alinea, civil and structural engineer AKT II and WSP as the traffic and waste engineer.
Whiteleys opened in 1889, before a fire forced it to relocate from Westbourne Grove to the Queensway, opening at this site in 1911. At its peak, Whiteleys was considered one of London's three main department stores, along with Harrods and Liberty's.