Bust-up ends after undisclosed compensation agreement
A dispute between Murphy and Unite over alleged union busting has been settled with an undisclosed compensation payment.
The long-running campaign had seen the union target the Camden-headquartered firm's customers, businesses and lenders, including a protest at Mott MacDonald earlier this year.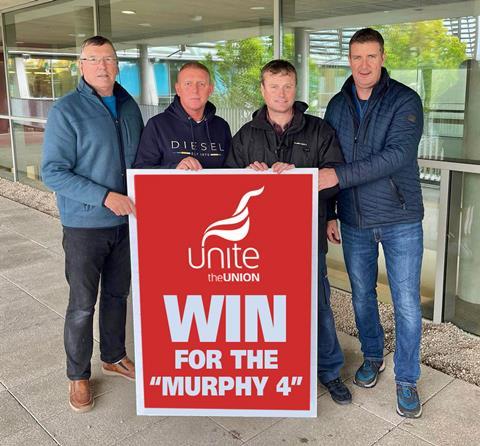 Four Unite members who were working as fitters and welders on a refurbishment project at the Aughinish Alumnia refinery in Limerick were dismissed by Murphy's Irish subsidiary in August and September of last year.
According to the union, the contractor suspended 15 workers who held a meeting over non-payment of travel and subsistence fees, later sacking the organisers of the meeting, one of whom was a Unite rep.
Murphy had maintained that it acted in response to an "unballoted, unnotified, and therefore unlawful strike action taken by a small minority of workers" and refuted Unite's claims of union busting.
The parties confirmed today (Friday) that the dismissal of the so-called Murphy Four had been settled following negotiations between the pair.
"The terms of the settlement are confidential, other than the parties being entitled to say that following rejection of reinstatement by the Complainants, compensation has been paid by the Respondent to the individuals," Murphy said in a statement.
Unite general secretary Sharon Graham said: "Unite left no stone unturned to secure the vindication of our members in Ireland who were dismissed by the Murphy group of companies on what Unite believed to be spurious grounds.
"This outcome totally vindicates Unite's approach of never backing down – but instead giving total and unwavering support to our Unite reps."