Guildford scheme would see shops and flats built by River Wey
Native Land has submitted plans to replace a former Debenhams department store in Guildford with 215 flats and 21,000sq ft of retail and restaurant space.
The 1960s building – which shut in May after the 242-year-old chain went into administration – was bought by the developer for £20m.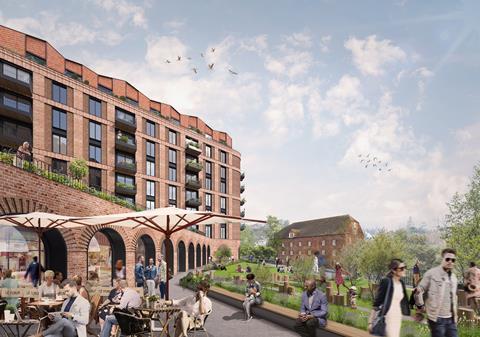 It hired Squire & Partners to design a 310,000 sq ft redevelopment of the 1.7ha town centre site. The project will include almost an acre of new riverside public realm, giving access from the high street to the River Wey for the first time in 50 years.
The mass closure of historic department store chains like Debenhams and House of Fraser because of changing shopping patterns exacerbated by the pandemic has left many towns with a lengthy run of shuttered windows in their commercial cores. In many cases the deserted buildings are also of architectural merit and conservationists such as the Twentieth Century Society are campaigning for them to be repurposed rather than demolished.
Squire and Partners' scheme will feature two new buildings around a square. Rising to eight and nine storeys, these will contain flats ranging from studios to three-beds.
The development, to be known as St Mary's Wharf, is the first project in Native Land's recently announced strategy to acquire closed stores in otherwise strong UK towns and cities.
In a statement it said of the decision to demolish: "The Debenhams building provides limited and poor public realm, and was constructed when environmental standards were substantially lower than demanded today; as such a conversion of the existing building to provide residential accommodation would require substantial alterations to meet standards on light and space. Squire & Partners' proposal will provide new fossil-fuel free buildings with zero emissions in operation, and a biodiverse environment for the long term."