Chief executive also reveals he wants earlier contractor involvement to bring down cost of projects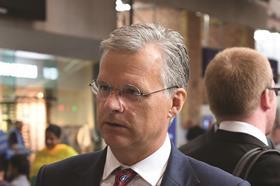 Network Rail wants contractors to be involved in projects much earlier to bring down cost, the client's chief executive Mark Carne has told Building.
Carne (pictured) said Network Rail is investigating using more modular and off-site construction on its projects.
The infrastructure manager's flagship projects are already starting to use off-site methods, including at Costain's £400m overhaul of London Bridge station, where around 70% of completed work trackside has used modular components.
Carne said: "[Contractors tell us], `Well hang on a minute, if we're constructing this kind of way, in a low-cost, off-site setting, bring it in part-built, we can enable a much lower cost solution for you'. The trick is of course to make sure you bring those partners in early enough for them to be able to influence the way something is designed and built.
"It's very difficult to modularise something which is already defined in great detail, so that's why working earlier on in the development phase of these projects is so important for us."
Carne was speaking to Building after a London First event to discuss Network Rail's plans to sell-off land for 12,000 homes.
Carne said Network Rail is looking to generate more cash from its property division to help fund railway upgrades. The property division is selling off around £1.8bn in assets.
Network Rail has struggled to keep a lid on costs in recent years. Last year it admitted its "Control Period 5" spending plan from 2014-19 had risen in cost by £2.5bn from £38.3bn, forcing delays to some programmes.
Carne told the event that in the long term he envisaged an entirely ticketless rail network, underpinned by use of facial recognition technology.