Consultant expecting no more than 400 of its 1,000 employees to be in City office at any one time
Arcadis's new home will have room for around 400 people – just one third of the 1,200 that can be fitted into its King's Cross home of the past 15 years.
The firm is moving to its new office in the City later this summer with the consultant saying the impact covid-19 has had on working is the main driver behind the decision.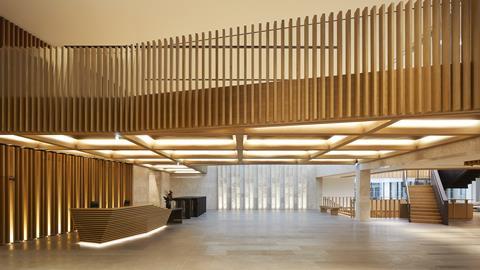 It is leaving its York Way address for 80 Fenchurch Street, having taken two floors at the 14-storey block known as EightyFen.
The office will serve as a base for the firm's 1,000-plus staff but its head of workscape, Sarah-Jane Osborne, said it expected no more than a third of these to be in at any one time.
She said: "We were really careful to have data-backed evidence about how much space we felt we should be taking."
In all, the firm is taking 40,000sq ft at EightyFen which will be a mixture of work and social space.
> Also read: Arcadis' new London HQ: What goes into a post-covid office
Osborne added: "We needed to make sure that we weren't heating, lighting, and cooling more space than we needed to enable all of the access that was required by our people.
"Our building intelligence will also enable us to optimize running costs and improve efficiencies throughout the building's lifecycle."
Reading-based fit-out firm Office Principles is on site ahead of the move with Arcadis carrying out most of the design and consultancy work itself.
The building was completed by Skanska under a £136m deal. Architect was TP Bennett for developer YardNine.