Resi blocks over 18m must have evacuation alert system under measures announced today
All new residential buildings taller than 11m will have to include a secure information box to help fire and rescue services, under regulations introduced today.
Changes to fire safety guidance and building regulations, announced by the Department of Levelling Up, Housing and Communities, will require taller buildings to include the boxes, which provide important details about a building in the event of a fire.
New residential developments taller than 18m will must also incorporate an evacuation alert system to help fire and rescue inform residents of a change in evacuation strategy.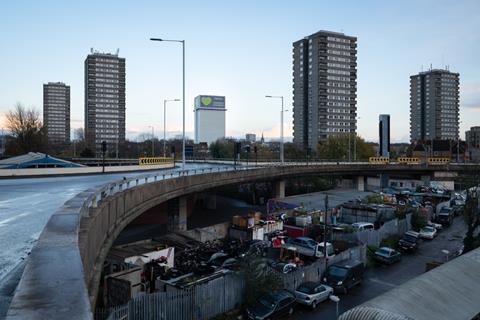 The changes, introduced as part of a wider package of reforms, meet recommendations from phase one of the Grenfell Tower Inquiry.
Building and fire safety minister Lord Greenhalgh said: "These changes will support our tough new regulatory regime – ensuring fire safety measures are incorporated into new high-rise homes and all new residential buildings meet the same safety standards. 
"It does not end here and I urge the industry act quickly to update their practises in line with these new rules."     
A previously announced ban on the use of combustible materials in and on the external walls of flats over 18m in England – as well as hospitals, student accommodation and dormitories in boarding schools – has been extended to new hotels, hostels and boarding houses of this height.
The government has also introduced tougher standards for external wall materials on new medium-rise blocks of flats.
Metal Composite Material panels with unmodified polyethylene core will be banned on all new buildings at any height, following government research and evidence heard at the Grenfell Tower Inquiry.
The National Fire Chief's Council protection and business safety committee chair, Gavin Tomlinson, welcomed the measures, saying the inclusion of secure information boxes would "give fire and rescue services access to important details about a building and its residents in the event of a fire".