Registrations hit highest level for first quarter since 2008, boosted by new properties registered at Battersea power station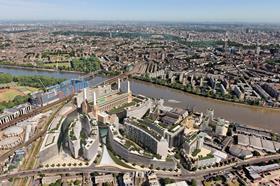 The number of new home registrations in the UK during the first quarter of this year is up 22% on the same period last year, the latest NHBC figures have shown.
The figures showed registrations reached 31,739 in the first quarter - the highest level for this period since 2008 and up 22% increase on last year.
The rise has been fuelled by an increase in public sector registrations of 43% in Q1 this year compared to the same period last year.
The NHBC statistics also reveal a 61% increase in new houses being registered in London in the first quarter of 2013 compared to Q1 last year.
The Battersea Power Station redevelopment helped boost the figures as more than 800 new properties were registered during the first phase of the project.
NHBC commercial director Richard Tamayo said: "New home registrations in the UK have reached a five-year high for Quarter 1 rising 22% on the comparative period, boosted by a very strong performance in the Greater London area.
"This rise in new homes being registered - particularly affordable homes - is very encouraging news for Britain's house-building industry which has been through a very difficult time in recent years.
"These figures may be an indication that much-needed confidence is returning to the industry, although they should be viewed in the context of overall new homes volumes remaining significantly below historic levels."