Warning comes after this month's Storms Ciara and Dennis caused widespread flooding.
The government's chief environment advisor has recommended a new raft of regulations for homes built in flood-prone areas.
Head of the Environment Agency (EA) James Bevan said new houses on flood plains should only be built if they are immune to flooding.
In a speech today at the World Water-Tech Innovation summit in London, he said: "The best way to defuse the weather bomb is better protection and stronger resilience."
Vast tracts of land in the UK are classed as a flood plain with one in 10 new homes being built on sites at risk of flooding, according to government data.
And figures published last week by Conservative think-tank Bright Blue shows 70,000 homes had been built in flood-prone areas since 2009, with 20,000 having no flood defences at all.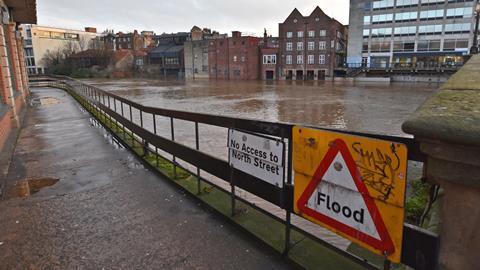 A 2016 deal between the government and the insurance industry to guarantee affordable insurance to homeowners living in high risk areas only covers homes built before 2009, meaning many homeowners in these areas may be unable to find insurance.
In an interview with the BBC, Bevan stopped short of calling for a ban on all developments in these regions but said that homes should only be built if "there is no real alternative" and with designs that are "flood-proof".
Bevan's recommendations include restricting the ground floor to garages, planting more trees, creating wetland habitats and restoring the natural course of rivers which have been artificially straightened.
The advice comes after unprecedented flooding across the UK caused by this month's storms Ciara and Dennis.
Water levels in Shropshire's county town Shrewsbury are set to reach an all-time high of 5.5m today, while the river Wye in nearby Herefordshire has risen to its highest level since 1795.
A number of government advisors and industry experts have waded into the debate, including RIBA director of policy Andrew Forth who said there was a "fundamental need for a complete re-evaluation of building regulations" in flood-prone areas.
He added: "We know how to build things that are resilient, that can be put back in to use rapidly after floods. Just building the same in flood risk areas as we build everywhere else isn't going to get us sustainable homes built."
In 2018, the RIBA published a five-point list of recommendations for the government to reduce the impact of flooding, which it says the government has ignored. Forth said: "The government is just not really prioritising this."
Meanwhile Richard Coutts, government flood advisor and director of architect practice Baca said homes in areas liable to flooding should use resilient materials and placing electrical points above expected flood levels.
But he warned chopping and changing ministers made it harder for government to come up with a coherent strategy. "The ministerial merry-go-round is preventing important decisions being made," he added.
The EA is currently spending £2.6bn on new flood defences to protect 300,00 properties by 2021 along with £1bn on maintenance of existing defences.