Adrian O'Hickey says he plans to continue expansion through organic growth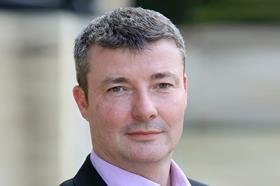 The new senior partner of SME consultant Ridge, Adrian O'Hickey, has pledged to continue the firm's expansion after taking the helm of the company from Phil Jones, who retires at the end of this month.
Speaking to Building, O'Hickey (pictured), who started in the role at the start of this year, said the firm was on course to increase revenue 14% this financial year to £40m.
He said he planned to continue expansion primarily through organic growth, but did not rule out further acquisitions following last year's purchase of engineering consultant, Upton McGougan.
O'Hickey said Ridge would have "to continue to grow or they would come to a standstill, which would effectively mean going backwards [for them]".
Ridge recently opened an office in China, coinciding with construction commencing on the £250m - 300m motor racing track, situated just outside Shanghai, which it is currently working on.
O'Hickey said the firm is "looking to be appointed on other commissions on the back of it".
The firm has also recently been appointed by the Mary Rose Trust as the employer's agent to oversee the modification of the temporary structure that encases the 500-year-old warship in Portsmouth Historic Dockyard to allow visitor's unrestricted views following years of conservation work.
O'Hickey began at Ridge in 1986, specialising in cost management, becoming an equity partner in 1996.