McCormick eyes a mix of organic growth and acquisitions as pre-tax profit slips to £1.6m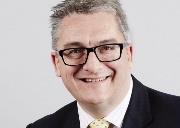 The new chief executive of WYG has said he wants business to double at the listed consultant after taking over from Sir Robert McAlpine-bound Paul Hamer.
Douglas McCormick (pictured) said the firm, which recently posted a 14% increase in turnover to £152m for the year to March 2017 but saw pre-tax profit slip £600,000 to £1.6m, was not focused solely on increasing revenue.
He added: "It's not just doubling headcount numbers but meaningfully growing margin, profit and the top line. It's not just whacking up the revenue. It's to make sure that we're making good margins and delivering cash-backed profit."
McCormick, who left Sweett Group last year after 18 months in charge following that firm's £29m takeover by Currie & Brown, said the business would look at a mix of organic growth and acquisitions.
McCormick said: "Where Sweett was a turnaround challenge, this is a growth challenge.
"I don't see us going around picking up lots of little companies. If we're going to do something, I suspect we'll try and do something that moves the dial quite significantly in terms of M&A [mergers and acquisitions]."
He is also eyeing boosting work in the infrastructure sector, where the firm is already providing planning and environmental services for the HS2 railway.
Theresa May's government has given less prominence to a number of infrastructure schemes championed by former prime minister David Cameron and his then-chancellor, George Osborne, such as Crossrail 2 – which would link Wimbledon in south-west London with stations at Tottenham Hale and New Southgate in the north via stops at Victoria, Tottenham Court and St Pancras – and the Northern Hub.
However, McCormick, who has spent the past few months working as a consultant for the €232m-turnover (£201m) Spanish construction consultant Ayesa, said: "I'm still hopeful [they] will come to fruition and I think we need to strengthen our presence to increase our involvement in those kinds of projects in the UK particularly."
He praised outgoing Hamer as having done an "extremely good job" at WYG, where he had been chief executive for eight years.
Hamer joins McAlpine at the end of this month as its new chief executive and takes up a role unfilled for nearly a year following the departure of Tony Aikenhead last summer.
WYG has also annouced that it is to move from its current London headquarters in Clerkenwell to the City. The firm is to take 8,750 sq ft of space in Angel Court.