Budget: NewBuy to extended to existing homes, rather than second-home buyers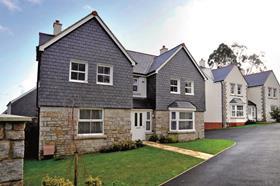 Building understands that today's Budget will see the government's £1bn mortgage guarantee scheme extended to existing homes, rather than second-home buyers, as has been reported.
Press reports today have suggested it would be existing homeowners who would benefit from the extension – so called "second steppers" - however, existing homeowners can already take part in the scheme.
The extension to the second-hand homes market would be a significant extension to the existing scheme, under which only new-build homes are eligible.
Currently house-builders themselves provide some of the underwriting of home-owners mortgages under NewBuy, but extending the scheme to the second hand market would mean that the government would have to provide all of the underwriting. One source described the expected move as "very bold".
New build homes account for around 9% of house purchases in the UK.
The move would help housebuilders by creating more churn in the market, allowing more transactions to take place, but could provide a significant boost to small builders which undertake home improvement work. Buying and selling homes is seen as the major prompt for home improvement work in the UK.
Brian Berry, chief executive of the Federation of Master Builders, said the move, if confirmed, would be warmly welcomed. He said: "I think that's a positive move to open up the housing market because we don't want to just get people moving into new build but older properties to free up the whole chain."
Berry said it would help boost repair and maintenance work, which is most commonly undertaken when people move into their new home.
However, he warned that the real problem in the housing market remained a lack of new homes being built in the UK.