Worker removed after incident at Christmas party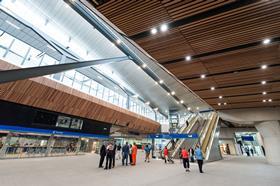 A NG Bailey worker has been removed from the redevelopment of London Bridge station after making a racist slur at another worker on the project.
Sources close to the project told Building the NG Bailey operative made the comments to another worker at a Christmas party at the end of last year, which was overheard and led to a complaint being made.
However, the NG Bailey worker continued working on the job in the new year, upsetting other workers on the project. Building understands the individual was then removed from the scheme last week.
NG Bailey is working as a subcontractor to Costain on the high profile £400m redevelopment.
In statements issued to Building, NG Bailey, Costain and client Network Rail all confirmed the worker had been removed from the project.
A NG Bailey spokesperson said: "We expect all our employees to uphold the highest standards of behaviour at all times, and any allegations of abuse, in whatever form, are taken extremely seriously.
"We can confirm that a complaint was made against one of our employees and we conducted a full investigation. As a result of this, appropriate action was taken against the individual concerned, who we can confirm is no longer working on the London Bridge project."
A Costain spokesperson said: "We take incidents of this nature extremely seriously and the individual in question is no longer working at our London Bridge site."
A spokesperson for Network Rail said: "Relationships between contractors and their sub-contractors are usually a matter for them and we do not comment on individual staff.
"However, we do expect all staff on Network Rail sites to adhere to the highest standards of conduct. We are aware that an individual has been removed from site."