Construction business has been impacted by project delays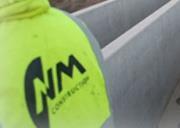 North Midland Construction has announced a significant surge in pre-tax profit, in its latest financial results.
The interim results for the six months ended 30 June 2017 show that pre-tax profit was £1.22m – more than double the £0.51m reported for the same period the previous year. Revenue increased by 4.3% to £135m for the first six months of this year.
However, the firm's construction business has suffered a drop in performance. Robert Moyle, the company's chairman, said: "The half-year result for construction was affected by delays in secured projects getting underway, so both revenue and profitability were impacted."
Construction revenue declined by 3.4% to £11.2m, down form £11.6m for last year and profitability fell by 68.5% to £78,000, down from £248,000 for the same period last year.
But he insisted that the projects are "now well underway".
The firm also reported that its remaining order book for the year stood at £23.5m and that £15m of next year's revenue had already been secured.
As well as construction, the contractor also works in the power, highways, water and telecommunications sectors.
John Homer, chief executive at North Midland, was bullish about the company's future prospects in these sectors. He said: "The outlook for our future trading remains positive and provides the opportunity to further improve the earnings from our operations.
"The board is anticipating enhanced like-for-like revenue growth in the second half of the year, coupled with an enhanced operating margin percentage."
The firm's confidence is reflected in its proposal to double the interim dividend per share to 3.0p – up from 1.5p for the first six months of 2016.