George Osborne welcomes £15bn plan to to improve road and rail connections across the region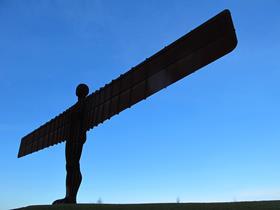 Five major cities in the North of England have outlined a £15bn plan to improve road and rail connections across the region.
The One North Consortium, which comprises the city regions of Liverpool, Manchester, Leeds, Sheffield and Newcastle, unveiled the plan today, which is aimed at improving the connectivity between cities across the North, including a new east-west line across the Pennines.
The plan follows a speech by George Osborne in June, when the chancellor set out a vision for a new trans-Pennines high-speed rail link connecting Manchester and Leeds in move aimed at creating a "northern powerhouse" city economy.
The chancellor argued that better transport connectivity was vital if the North of England was to compete with London and the South-east.
Today Osborne welcomed the publication of the One North Consortium plan, and said in his Autumn Statement this year he would make a "big commitment" to investment in transport and infrastructure in the North.
He said: "I'm ready to commit new money, new infrastructure, new transport and new science. And real new civic power too. This will be a centrepiece of my Autumn Statement - and part of our long term economic plan for the country."
Osborne said the government would look at the One North report and work up a plan for delivering its component parts. He said that in the autumn he would also set out proposals for a major devolution of civic power and responsibilities for cities with elected mayors.
In October, Sir David Higgins, chair of HS2, is also set to publish his report on the northern phase of HS2, including initial options for an HS3 cross-Pennine fast rail link.
The One North report proposes a £15bn, 15-year investment plan comprising:
Increased road capacity for both freight and personal travel through extended managed motorways, addressing gaps in the network and improving links to ports.
A very fast, frequent and high quality intercity rail network joining up city regions - including a new trans-Pennine route (tunnelled as necessary), a faster link to Newcastle and improved access to Manchester Airport.
Improved regional rail networks to provide additional capacity and help sustain growth, interconnected with HS2 and intercity services plus local tram networks and more park and ride facilities.
New rolling stock (as a priority), electrification of existing lines, higher service frequencies and addressing pinch-points on the rail network.
A digital infrastructure enabling real-time information, greater network resilience and faster connections between key areas to personal and business users.
Improved access to enable efficient freight movements by rail, road and water including ports, rail links and distribution centres.
Building HS2 early - extending Phase One to Crewe and bringing forwards the delivery of HS2 between Leeds and Sheffield.
Improving East/West rail freight capability across the Pennines, linking major ports to north/south rail routes.
Manchester City Council leader Sir Richard Leese said: "Sir David Higgins set us a challenge to make the case and we are responding in a single clear voice with this landmark report.
"The current constraints on our transport networks, the product of years of neglect and under-investment, affect the competitiveness of the north. East-West journeys take almost twice as long as equivalent journeys in the south and our rail links are too slow and unco-ordinated. Our motorways are congested, and there is an over-reliance on the M62.
"Addressing these limitations will require ambitious action, co-operation and a co-ordinated approach to strategic planning and investment - bringing together rail, road, water and freight and enabling the great cities of the north to be more than the sum of their parts.
"We need a new holistic approach to strategic investment and planning. The reward would be a substantially increased contribution to the national economy."