Proposed £10bn Moorside nuclear power plant gets boost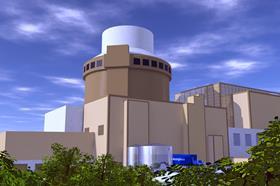 A proposed new £10bn nuclear power plant at Moorisde in Cumbria has received a boost, after nuclear new build developer NuGen announced it has signed a land deal with the Nuclear Decommissioning Authority (NDA) for the site.
The deal means NuGen will now take control of the site, and can progress with its plans to build three nuclear reactors. A suitability study by Babcock which concluded that the site would be suitable for three AP1000 reactors (example pictured).
Moorside is expected to provide around 7% of the UK's electricity needs when operational, and is the largest nuclear new build in Europe.
NuGen chief executive Tom Samson signed the land deal with the NDA's chief executive John Clarke.
Samson said he was delighted at the "major milestone for NuGen's Moorside project."
He said: "This is great news for the North-West, and particularly for West Cumbria, the UK's nuclear heartland.
"We are delighted to be taking forward Moorside, a massive development which will supply some 7% of the UK's future electricity."
NDA chief executive John Clarke said the deal "supports the initiative to have West Cumbria recognised as a centre of nuclear excellence, building on over six decades of nuclear expertise in the area, whilst delivering excellent value for money for the taxpayer and the national economy."
Energy minister Andrea Leadsom welcomed the announcement and said: "We want the recovery to benefit all parts of our country, and Moorside will be a major infrastructure project that creates jobs and economic security for thousands of people and helps to deliver the Northern Powerhouse."