Contract awards and prior information notices also stage dramatic recovery in final weeks of 2020
The number of public sector contracts up for grabs at the end of last year was 20% higher than the same period in 2019 despite continued uncertainty caused by the covid-19 pandemic and the looming Brexit deadline, Building analysis can reveal.
In December, 199 contract notices for construction jobs were posted on the Official Journal compared to 163 in the same month in 2019, an increase of 22.1%.
It raises further hopes of a strong recovery for workloads after a tumultuous 12 months which saw available jobs plunge to 48% below their 2019 levels in April, at the height of the first lockdown.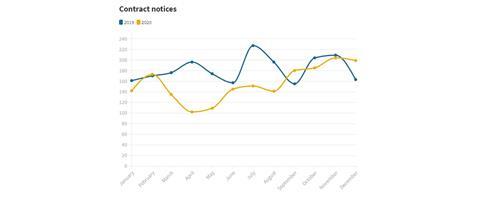 The figures chime with the latest CIPS/IHS Markit forecast, which returned the highest levels of optimism within the industry for nearly four years in December and new orders increased for the seventh consecutive month.
Contract awards on the Official Journal also surged in the final weeks of the year with 197 jobs awarded in December compared to 168 in the same month in 2019, an increase of 17.3%. It was the first month in which awards outnumbered those posted in the same month a year previously since February.
Awards had stayed well below 2019 levels since the start of the pandemic, with September's count of 104 being 49% lower than in the same month in 2019.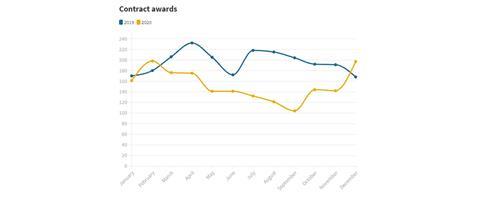 Meanwhile, prior information notices (PINs), which set out a client's purchasing intentions, were nearly a third higher last month with 65 posted on the Official Journal compared to 49 in December 2019.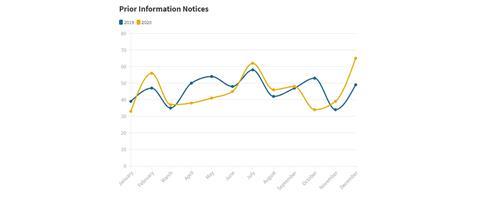 But overall numbers were still down on pre-pandemic levels, with 12.3% less contract notices, 22.1% less contract awards and 2.2% less PINs posted last year compared to 2019.
The figures gathered for the analysis cover September to December and follow a similar study earlier in the year covering January to August.
Those figures revealed how contract notices, contract awards and PINs had briefly risen above 2019 levels in February as the industry recovered from years of Brexit-related uncertainty following the December 2019 general election, before nosediving in March as the pandemic struck.
The data gathered from the Official Journal includes all contract notices, contract awards and PINs categorised as construction work, real estate services and architectural, construction, engineering and inspection services.