Allies and Morrison and Mikhail Riches both involved with scheme
A £600m project to build 1,200 homes across two sites in Stratford's Queen Elizabeth Olympic Park has begun the search for a development partner.
The winning firm will team up with the London Legacy Development Corporation (LLDC) in a joint venture to build the two 600-home schemes, which will join a host of cultural and educational institutions currently being built at the site.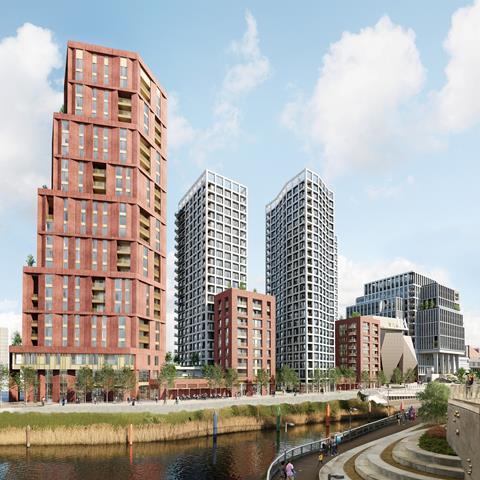 Allies and Morrison's scheme at Stratford Waterfront, which has received outline planning consent, will include 2,200sq m of retail space, new public realm space and supporting infrastructure works.
It will be built on a 1.6 acre site neighbouring the £1.1bn East Bank culture and education district, which includes new outposts for the V&A museum, Sadler's Wells dance theatre, both designed by O'Donnell & Tuomey.
Architect Mikhail Riches is currently working on the planning application for the second scheme, known as Bridgewater, which will have a family-oriented focus with homes featuring three or more bedrooms.
Located on a 5.9 acre site close to Pudding Mill DLR station, it will be linked via a series of pedestrian walkways to the nearby stadium and aquatics centre.
Firms interested in forming the JV can return a questionnaire to LLDC following an online launch event on 14 October 2020.