Legacy Corporation re-launches competition for operator after just four bids received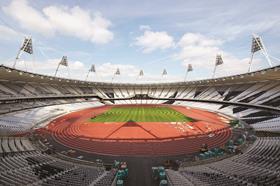 The decision on the long-term role for the Olympic Stadium has been delayed until after this summer's Games in the latest twist in the tortuous appointment process for the venue.
The body overseeing the redevelopment of the Olympic Park after the games, the London Legacy Development Corporation, has decided to re-open the tender process for a long-term operator for more bids after just four organisations submitted detailed bids to run the stadium.
The Legacy Corporation said in a statement today it is "extending the stadium competition process by a further eight weeks" after it had to relax the rules of the competition to ensure organisations which registered an interest in bidding for the stadium weren't put off from actually bidding by the small print.
The failure to have a long-term role for the stadium agreed by the time of the 2012 Games is the latest blow to the Legacy Corporation after a provisional deal for West Ham to move to the stadium collapsed in October.
This came after Tottenham Hotspur had threatened to delay the process with a lengthy judicial review of the decision, but the Legacy Corporation nevertheless guaranteed that the collapse would not jeopardise its promise to have an operator in place in time for the Games.
Today's decision means the process has been thrown open to the 12 organisations that originally registered an interest but failed to submit a bid by last week's deadline.
Under the revised competition the Legacy Corporation will allow bidders to propose sharing the revenues from any future "naming rights" deal over the stadium, and will also allow bids from sporting organisations that have not, as yet, received formal approval for their bid from their sport's governing body. It has also had to clarify a number of technical queries around how detailed design issues will be resolved.
The decision follows comments from Leyton Orient Football chair Barry Hearn, that West Ham's latest bid be disqualified because the club had not received FA approval for the move to the Olympic Stadium.
Andrew Altman, chief executive of the Legacy Corporation, said: "We want to make the process as competitive as possible and extending the competition period will allow all parties that registered an initial interest in the stadium another chance to bid.
"The fundamentals have not changed and it remains our intention to sign construction contracts for converting the stadium at the end of October, with the intention of re-opening in 2014 as previously announced."