John Armitt says 2012 aquatics centre 'a lasting legacy' for London
The former chairman of the Olympic Delivery Authority has paid tribute to Zaha Hadid and said her aquatics centre is a lasting legacy of the 2012 games for London.
John Armitt said the £300m spent on the building was worth it: "In Zaha Hadid, Britain had an architect who brought such pleasure not only to her own country but to many others around the world.
"I was on occasion questioned as to why the Olympic Park Aquatics centre was expensive. My answer was that great cities need iconic buildings, that they inevitably cost more but provide a lasting legacy. Zaha Hadid's design does just that."
And he added: "Like many great people she was determined and demanding, reluctant to lose the purity of a design to cost cutting challenges. That purity was hidden during the Games by the temporary wings but has been released in legacy. We are all in her debt."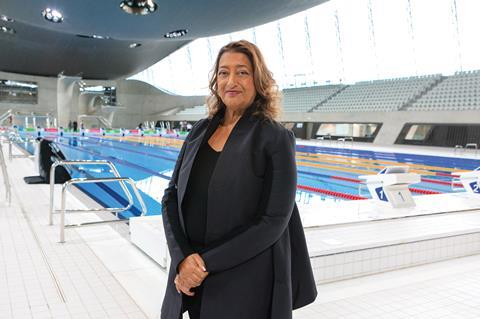 Armitt also said the architect, who died last week aged 65, should be held up as an inspiration to women looking for a career in engineering – as well as architecture.
"Women who want to pursue a career in architecture or engineering should be inspired," he said. "Her success which came from sheer hard work and talent demonstrates that gender need be no barrier in the built environment to talent and ambition."
And Hanif Kara, a co-founder of structural engineer AKT II, which worked often with the late architect, said: "What I witnessed was her mesmerising charm, confident imagination as a designer, mischievousness, undivided generosity and ability to deliver."