Figure worst among women, Hays survey reveals
Almost one in four construction staff have said caring for children during the first lockdown had limited their career progression, according to the latest diversity survey carried out for Building by recruitment firm Hays.
The number rises to more than one in three, 35%, for women and one in five, 20%, for men.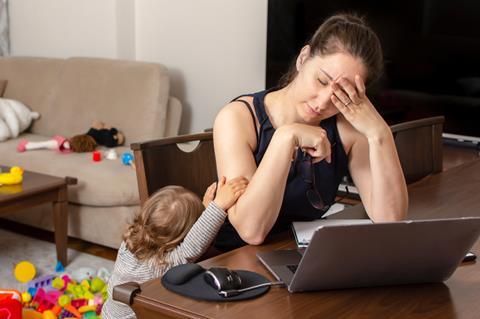 The survey was carried out in September last year before the imposition of the November lockdown and the one introduced last week which has seen parents having to juggle work and childcare or homeschooling.
The findings come as the government faces increasing calls for more construction staff to be classed as key workers after it emerged some were having to take their children to sites with some groups, including architecture union UVW-SAW, now saying non-essential sites needed to close down.
Schools are currently closed for the children of most construction workers as part of lockdown restrictions, except for those whose parents work on "critical transport and border infrastructure" projects.
The survey also found that nearly half, 49%, of professionals working in construction and property were using flexible working arrangements during the pandemic, with over one in four saying they would have to look for another job if flexible working was not an option.
Overall, over half of respondents thought flexible working arrangements were having a positive impact on the success of an organisation, with 72% welcoming the arrangements for leading to a better work-life balance.
But nearly a third of those working flexibly said their career progression had been disadvantaged because of the arrangements, while 46% said that isolation was the main drawback of flexible working.
A lack of time spent with a manager for training was blamed by 51% of respondents who said their career progression had been harmed by flexible working, while 45% blamed fewer opportunities to understand different functions within their organisation.
Meanwhile, nearly half, 46%, of respondents said there have been occasions where they felt their chances of being chosen for a job have been limited by factors including their age, gender, ethnicity, disability, mental health, sexual orientation and religion.
The starkest figures were for age, with 64% of respondents saying their chances of securing a job had been limited by their age, and 62% of respondents who said their chances of career progression had been limited for the same reason.
Nearly a third of those who said their chances of being chosen for a job had been limited said it was because of their ethnicity or nationality, while over one in five blamed their gender or gender identity.
But 56% of respondents claimed that themselves and their colleagues had the same career progression regardless of age, with just 18% disagreeing.
And 62% said that chances of career progression were equal among themselves and their colleagues regardless of gender, gender identity, ethnicity and nationality.
The survey received over 1,000 responses from people working in construction, property, architecture and social housing.
> Previous diversity survey: analysis of Hays 2020 survey data