Work on Aura scheme ground to halt following allegations against previous developer Elliot Lawless
A £100m mixed-use scheme in Liverpool stalled by a police investigation into its developer is set to be completed by the original contractor.
Work on the £100m Aura hotel and student accommodation scheme ground to a halt in the wake of a probe into Elliot Group founder Elliot Lawless.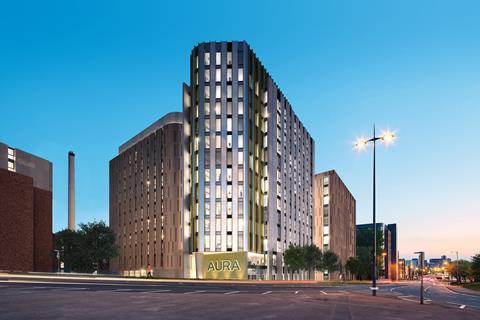 He was arrested last December on suspicion of fraud along with a Liverpool council official. Neither man has been charged.
The scheme, along with two others Elliot Group was developing, went into administration in March. Aura (pictured) was being built by Liverpool contractor Vermont.
But Vermont said it has now struck a deal with a group of investors who have bought the site from the administrator David Rubin & Partners to finish the work.
Work will restart this month with the first phase of the 1,000 unit complex due to be completed next September.