Finsbury Circus' Electra House was centre of secret WW2 spying operation
Osborne has been appointed as the main contractor on a major £21m refurbishment of a grade II-listed building in the City of London.
The firm, which last month swapped chief executives with Andy Steele being replaced by former Wates chief operating officer Dave Smith, will carry out the first refurbishment of Finsbury Circus' 1903 Electra House since the 1960s.
The seven-storey building, located at 84 Moorgate, was constructed as the headquarters of the Eastern Telegraph Company and formerly sat at the centre of the world's largest network of telegraph cables.
Since 1944, the building has been the square mile campus of the London Metropolitan University.
The refurb, which has been designed by architect Veretec, is being carried out for the City of London with the project team also including engineer Stantec, project manager Watts and East West Connect on MEP.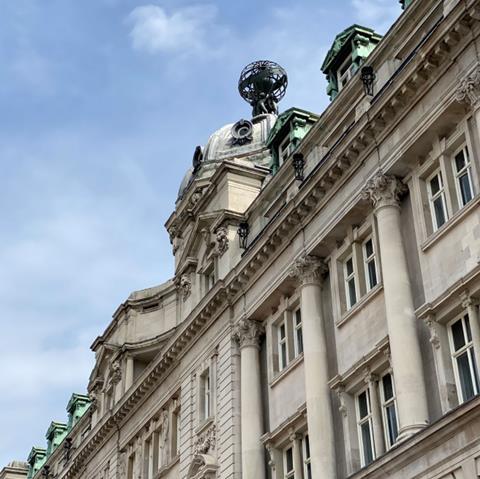 The job will see two new glass lifts installed in the building's light wells, two existing lifts refurbished, all M&E services stripped out and replaced and new plant installed at the basement and roof levels.
A modern services structure built into the building's dome will also be removed to allow the space to be repaired and restored to its former condition.
Scaffolding has already been constructed around the building with Osborne set to start work in the new year with completion scheduled for February 2023.
The firm's managing director Gordon Kew said Electra House was a "very special building with great heritage and including many significant decorative features".
He added: "We will undertake the work with the care and respect that this great building deserves."
Electra House was heavily bombed during World War Two with parts of the building remaining uninhabitable until a restoration programme in the 1950s.
During the war, it was the headquarters of a government spying operation called Department EH which monitored communications at foreign embassies.
The secret organisation was also tasked with spreading false rumours about Allied technological capabilities as part of a programme of deliberate misinformation and psychological warfare.